Remember, Lagniappe has a professionally produced record "irrational Exuberance." Available at all gigs. Click on side bar Blue & Black box for sound bites ----->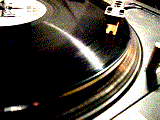 Ok, so it's a CD but I love an excuse to use this moving record gif!
The songs on all my slideshows are from the band's CD. Get a copy. Variety of tunes. Almost an hours worth!
Slideshow below photos from, mostly, Riverbank Cafe.
05/17/12 6-8 pm Washington Platform
1000 Elm Street Downtown
Cincinnati, Ohio
05/18/12 7-9:30 pm Riverbank Café Trio version
102 Main Street (Corner B & Main)
Hamilton, Ohio
896-1666
05/19/12 9:00 pm – 12:30 am Arnold's
210 E. 8th Street
Cincinnati, Ohio
05/20/12 4:00 - 7pm
Julian's Deli Loveland
200 W. Loveland Ave.
Loveland, OH 45140
513-583-1725